Online Banking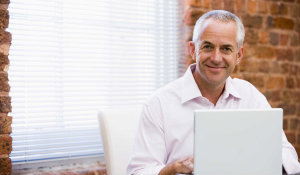 Just because business hours are over doesn't mean your day is. Managing a business can mean early mornings and late nights...and running to the bank isn't always an option. But with our complimentary online banking service, you can manage your business checking and savings accounts from home, the office, or anywhere else. Check balances, monitor transactions, transfer funds, pay bills and much more; it's all online and it's always open.
Summary

Free service to our customers

Access to deposit, savings, and loan balance information

View detailed account history

Transfer funds between accounts

Make a loan payment

Pay bills through bill pay service

View checks and account statements

Download account information to financial management software

Contact the bank via email

Place a stop payment on a check

Take it for a test drive! Try a free online banking demo here.

Bill Pay

Pay suppliers, bills, vendors, and anyone else without having to cut a check. With online bill pay, you can transmit funds from your checking account to anyone in the country quickly and securely. Once you try it, you'll wonder how you ever got along without it.

Free with Security Bank checking account

Save time and money

Make one-time bill payments

Schedule future or recurring payments

View past bill payments

Add or delete payees online

Only one site to pay all your bills

Securely encrypted for your protection

FAQ

Q. How can I get online banking?

A. If you are new to Inernet banking, you may click on the Apply Now button and fill out the inquiry form. After this information is submitted, you will receive your Netteller ID in the mail.

Q. How can I login to online banking?

A. After you enter your PIN number on the first screen of online banking, you will be shown a list of your accounts and the balance in each. If you want more detail or want to carry out a transaction, just select the function from the pull-down menu for the account you are interested in. Any additional pages will have dropdown menus on them that lead you through your transaction.

Q. What happens if I don't log off of the system?

A. Online banking has a 10-minute time-out feature. If you are logged in for 10 consecutive minutes without using online banking, you will have to log in again to resume banking.

Q. What happens if I forget my online banking PIN?

A. You are allowed 3 attempts to enter your PIN. On the third attempt, if invalid, you will be locked out of the system. Immediate access may be regained by calling the bank customer service representative to assist you at 432.333.9901 during regular business hours, Monday through Friday 8:30 am - 5:00 pm EST.

Q. When will transfers show in my account?

A. The transfer cut-off time for current day's business is 5:00 p.m. CST. Any transfers made after this time will not be transacted until the next business day.

Q. How much does online banking cost?

A. Online Banking service is FREE for Security Bank customers.

Q. How do I add the optional bill payment service if I did not select it when I applied for online banking?

A. You can apply for the bill payment services by completing and submitting the online application or by visiting one of our branch offices. You must be an authorized signer on the account.

Q. How much history can I see online?

A. You will be able to access up to 30 days transactions as well as having access to 3 months previous statements. The statement history file will begin to build from the date that you sign up for online banking.

Q. What types of accounts can I view with online banking?

A. With online banking, you can view your checking, savings, CD accounts, IRA accounts, as well as loans.

Q. How often is my account information updated?

A. The available balance for checking and savings accounts is real time and will change throughout the day based on the activity. For example, as the client uses their ATM or debit card or transfers money between accounts, the available balance will be updated to reflect the activity.

Q. Where can I obtain additional consumer information on online banking?

A. "Tips for Safe Banking Over the Internet" The Federal Deposit Insurance Corporation (FDIC) has published an online brochure aimed at informing consumers of their rights and responsibilities when banking over the internet.

For more information, please read our Online Banking Agreement.