Personalized Debit Card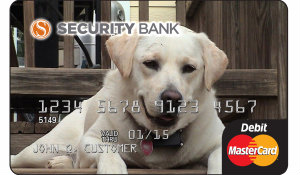 Your card. Your look. It's easy to personalize your debit card with the photo of your choice or choose from our photo gallery. Please review our Terms and Conditions before ordering your new Personalized Debit Card.
New to Security Bank? Apply online for a checking account today. Once your debit card arrives, you can create a new Personalized Debit Card.
If you have questions or need additional help, don't hesitate, give us a call at 888.303.8298. We are ready to help!
Summary

Use your favorite image

Choose a school spirit card

Photo gallery collection

Image Guidelines

Image files can be in either .JPEG, .GIF, .PNG, .TIFF, or .BMP formats;

The maximum file size is 10 Megabytes (Mb);

Images must be at least 840 X 840 pixels (image size or pixels may be increased in a photo editing software such as Microsoft® Paint);

Small images will reproduce poorly when printed;

If you increase the scale of the image too much, it may also print poorly;

The larger the image you choose, the longer it will take to upload;

The time your image takes to upload is entirely dependent upon your connection speed to your Internet Service Provider (ISP);

Should your image be slow to upload, please speak to your ISP