Letter From The CEO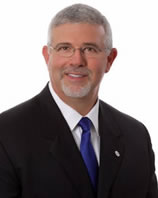 On behalf of all of us at Security Bank, I would like to extend my personal thanks to you for visiting our website. A lot has changed since 1928, and even more has changed since I started with the bank 30 years ago. But our vision of the importance people play in our lives and that service really does matter has not changed. We strive to deliver extraordinary service, with valuable banking conveniences to help you manage your financial future.
Security Bank is committed to your success – whether it's helping your business grow and prosper or finding solutions to your personal banking needs. This calling guides us to enhance our services while delivering innovative products. We offer real solutions that meet your banking needs such as mobile/text banking, online banking and bill pay services. We also bring a team of experts to every challenge and have helped hundreds of small businesses grow and prosper. Our people have built a reputation on high professional and ethical standards, which has resulted in superior safety and performance ratings with national recognitions. We are a community bank and are committed to serve and help them grow. With integrity and professionalism, we focus our attention on providing solutions in the lives of our customers and build life-long, meaningful relationships.
I would ask and encourage you to contact us with any suggestions you may have regarding our internet banking or any other facet of our business. It's quick and easy to do this by filling out our Contact Us form. Here at Security, we are always interested in knowing your experience with our bank and its related services.
If you are a potential employee seeking available positions, please see Career Opportunities for more information on how to submit your resume and what it's like to be a team member at Security Bank.
Thanks again for visiting our website. If you are not already a customer, I would invite you to come in to any one of our locations to experience our way of banking for yourself. General bank or account information is also available through our telephone banking system at 800.813.5352. Come and discover a banking atmosphere unlike any other and a culture that puts people at the forefront.
Jim Smitherman
CEO